In gloss we trust - Quote of the day... yesterday

Yesterday, looking for more explanation of the quote of the day, Google sent me to a french website (link at the end)...
Where I lost myself during hours.
Diary of a french woman (Sonia) living in Paris and who likes to try many things, cosmetics or depilation tecnics, massages...
The fact is that her expression is amusingly funny even if her experiences are serious and still very franc.
She talks like an " argot-chic " with a very good humor.
I really enjoyed it a lot... even if I didn't found what I was looking for... but I really found way more than that...
I have to say that surch things are absolutely not translatables... as they say in italian " Traddutore - traditore " literally " Translation - treason " in the way that it's really impossible to translate surch expressions, you can have a word equivalent, but never the real deep meaning.
I am totally agree with this expression... may be for the difficulties I have got " sometimes-often " to translate from french to english or spanish.
No matter... Sonia is absolutely not translatable !
In Sonia... we trust !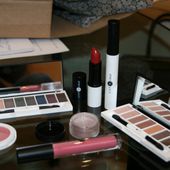 La marque est née il y a 10 ans, et au départ, c'était seulement vendu sur E-Bay. A l'époque, il n'y avait que quelques poudres minérales et des ombres à paupières. Lily Lolo s'est fait conn...