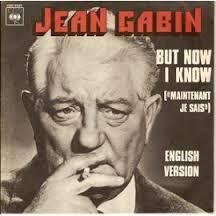 I know

When I was a child, kneehigh to a grasshoper
I used to speak very loudly to be a man
I used to say, I KNOW, I KNOW, I KNOW, I KNOW

It was the beginning, it was spring
But when I turned 18
I said, I KNOW, here I go - this time I KNOW

And now, every time I turn around
I look at the earth, a place I paced up and down though
And I still don't know how it turns

When I was about 25, I knew everything
Love, roses, life, money
Oh yeah, love! I knew it thoroughly!

And luckily, like my mates
I hadn't eaten up all my bread*
Halfway through my life, I learned new things again

What I've learned takes up only four, five words:
On the day when someone loves you, the weather is very fine
I can't say it better - the weather is very fine

That's the last thing to amaze me about life
I who am in the autumn of my life
You can forget so many evenings of sadness
But never a morning of tenderness

All the time when I was young, I wanted to say I KNOW
However, the more I searched, the less I knew then

The clock has stricken 60
I'm still standing at my window, looking out and wondering

Now I KNOW, I KNOW THAT YOU NEVER KNOW!

Life, love, money, friends and roses
You never know the noise nor the color of things
That's all I know! But I KNOW that...